Hi there! This is Nick Newport welcoming you back!
Have you ever wanted to write the lyrics to a song but couldn't really get started or maybe you got started but got hung up on the details of finding the right phrase to rhyme with the other lines?
Have you ever have writer's block where you stared at a blank screen all the inspiration you had a few minutes ago just sort of washed out of you and you didn't know what to do next to get the ball rolling?
Or maybe you've looked at the stack of scribbles and notes you've collected over time and wondered if any of it was really of any use since none of them had made it into any actual lyrics?
If you had some way to just push a button and have them all arranged into a song, wouldn't things be a lot easier?
Or better yet, if you could just push a button and have a bunch of completed songs already written for you and you could just pick out the strongest parts, your life would be quite a bit easier wouldn't it!
That's basically what The Lucidology Automatic Lyric Generator & Song Writer is all about: pushing a button and it does all the work for you, and just spits out completed songs and rhymed phrases.
Click here to open up the free online
demo so you can play around with
generating your own songs!
Just Click A Button To Get Complete Songs Written That Are Customized To Your Tastes!
The idea is you tell it what style of lyric you want, such as rap, pop rock, metal, dance or several other options; you check a couple boxes that allow you to customize the songs, then you push a button and it writes a bunch of songs for you.
You can scroll through the songs, pick out the parts that you like, then use some of the other tools it has to fine-tune your lyrics.
Rhyming Phrases Across Multiple Syllables And In Your Desired Musical Style
One of the most useful tools is the ability to rhyme phrases as opposed to simply rhyming words like most dictionaries.
You enter a phrase you want rhymed, tell it the musical style and so forth you like, and then it gives you a list of phrases that rhyme across multiple syllables with your searched phrase.
For instance, if you specify 'Psycho Metal' as your rhyme style and search for things that rhyme with "a million monkeys", it will come back with things like "To be a zombie", "To crucify me", "You like it baby".
These are all phrases like what you'd hear in certain styles of heavy metal. You can also have it give you phrases that rhyme across more than one syllable and it will return phrases such as "You get the money", "Just wanna run free", "To be a junkie" which rhyme across the final two syllables.
Click A Button To Arrange Your Existing Backlog Of Lyrics Into Completed Songs!
Additionally, if you have existing lyrics that you want made into a song you can use the 'Auto-Arrange' button. Just paste in the random phrases you want arranged into the scratch pad, click the 'Arrange' button and it will write songs for you from your phrases.
Easily Find Your Strongest Lyrical Ideas With The Click Of A Button!
Similarly, you can use the 'Sort' button to sort phrases by rhyme. You can also have it filter out weaker phrases to help you identify your strongest lines so you have a better idea of what to use for your title and chorus.
It you have an existing song that you need another few verses for, you can paste one of your existing verses into the scratch pad, click the 'Morph New Rhymes' button and it will write "morphs" of your original verse which have totally new phrases but have the same metrical and rhyming structure and are in the musical style you like.
You can just browse through the variations it gives you, pick the ones you like, and copy them into your own songs.
Click here to open up the free online
demo so you can play around with
generating your own songs!
Search Millions Of Phrases Rather Than Thousands Of Words To Get Nove
At its core, the power that makes the Lyric Generator so useful is it's searching over 10 million phrases as opposed to just a few thousand words like most dictionaries.
A thick rhyming dictionary book I have boasts about having 60,000 words in it. That's a less than 1/166th the size of information the Lyric Generator has to work with!
Not only that, but rhyming dictionaries give you words rather than phrases. The Lyric Generator, on the other hand, gives you phrases that have the same metrical cadence and style as your input phrase.
The Power Of Customization And Filtering Instantly Gives You Exactly The Right Lyrics Easily!
Additionally rhyming dictionaries give you bland, untargeted rhymes that may have nothing to do with the style of music you're making.
The Lyric Generator allows you to filter through those 10 million phrases to get only the best results that rhyme well with your target phrase and are also styled according to your lyrical genre.
The flexibility the Lyric Generator gives you is simply something you simply can't get anywhere else!
How To Get Started
To get started automatically writing songs with the click of a button using the Lucidology Automatic Lyric Generator & Song Writer, just click the button at the bottom of the page and sign up.
You can try it out for a week for just $4.97 and if you like it, your membership will automatically renew at just $/month.
If at any time you want to cancel, you can simply click this link to cancel or get a refund at any time!
How To Cancel Or Get A Refund At Any Time
Billing is securely handled by Clickbank. I pay them a hefty commission fee on every transaction for them to provide you with 24/7 support by email so you're safe every step of the way.
When you sign up, I am not given any access to any of your Paypal or credit card information. This means your billing information is protected against any possibility of hackers and you can cancel or get a refund at any time simply by using this link.
100% No Questions Asked 60-Day Money Back Guarantee
If you're not absolutely thrilled by the songs you can write automatically with the Lyric Generator, I don't want your money!
Therefore, you are protected by my 60-Day Money Back Guarantee. If at any time you want a refund, just use this link to get a refund instantly!
You can only win!
Ready To Go? Here's How To Join!
To get started, just click the button below and on the next page you can enter your login information to start writing songs now!
Try It Out For A Week For Just $4.97!

Your Membership Then Renews At Only $/Month!

(You Can Easily Cancel At Any Time Using This Link!)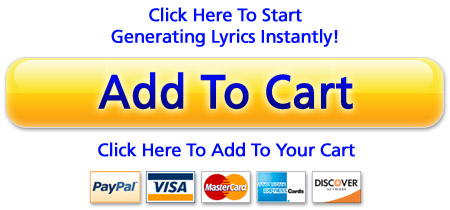 To get started, just click the button above and enter your login information on the next page! I'll see you there!
-Nick