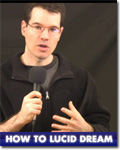 Hello my explorer friend,
I was a terrible insomniac with awful nightmares every night. I dreaded going to sleep and would just stay up all night.
Eventually I discovered lucid dreaming and out of body experiences. Unfortunately I found that the techniques given in books for inducing lucid dreams and OBEs were very weak and ineffective.
I spent the next four years developing my own highly effective style and tested every method and combination of tricks I could find. Eventually I discovered a highly specialized set of tricks which were not found in any of the books that you can use to trick your body into falling asleep. I call these techniques "body tricks".
Using this system you can send yourself into a lucid dream or OBE without even needing to use any visualizations which I put into my freely available Lucidology 101 videos.
Now, after many years of testing, you can get free access to these tricks in the OBE Quickstart.
In it I'll show you the exact techniques discover how I went from nightly nightmares and insomnia to having amazing OBEs and lucid dreams every night. You'll get:
1. Complete 8 Step Diagram To Trick Your Body Into Falling Asleep To Have Your First OBEs And Lucid Dreams
2. The 7 Biggest Killer Lucid Dream & OBE Mistakes People Make All The Time – How Many Of These Are You Making?
3. Charts: How To Tell How Close You Are To A Successful OBE
4. Five Lucid Dream & OBE Induction MP3s To Supercharge Your Progress
5. The Lucid Dream & OBE Flash Timer
6. Predefined Lucid Dream & OBE Timer MP3s
You can click here to download the OBE Quickstart for free and get started exploring your subconscious right away.
Thanks for joining our community and giving me the pleasure of accelerating your lucid dreaming progress.
To your success,
Nicholas Newport
p.s. (I also developed a specific set of visualizations which supercharge the body tricks phase to make lucid dreams and OBEs even easier. This system is called Lucidology 102 and speeds things up by showing you how to have OBEs even if your body is not in sleep paralysis! This system is not for everyone, but if you're serious about OBEs and seeing for yourself what nonphysicality is like, you may want to see what Lucidology 102 has to offer you that you can't find anywhere else.)